Archbishop Nelson J. Perez Announces the Suspension of All Masses




in the Archdiocese of Philadelphia.
At St. Joseph Parish, all personal contact and public services
are suspended until further notice.
Although there will be no public celebrations
of Palm Sunday of the Passion of the Lord or the Sacred Paschal Triduum,
the faithful from throughout the five-county Archdiocese of Philadelphia,
and all people of good will,
are invited to take part virtually via a live streamed broadcast.

Live Streamed Events For Holy Week
4/5       11 am         Palm Sunday of the Passion of the Lord
4/6        7 pm         Chrism Mass
4/9        7:30 pm   Holy Thursday Mass of the Lord's Supper
4/10      3 pm        Good Friday Celebration of the Passion of the Lord
4/11       8 pm       Holy Saturday-Easter Vigil in the Holy Night
4/12      11 am       Easter Sunday of the Resurrection of the Lord
Where to find Live-Streaming Masses on TV?
EWTN
Comcast Channel 291/1668,
Verizon Channel 285,
DirectTV channel 370
Dish Network Channel 261
Daily at 8:00 am, 12:00 pm, 7:00 pm (8:00 am & 12:00 pm on Sunday)

You can also Live Stream Mass from the Archphila.org & mass-online.org
---
Letters From Father O'Hara to St. Joseph Community
FROM SAINT JOSEPH CHURCH
TO OUR PARISH COMMUNITY
4/2/2020
This Sunday is Palm Sunday. Although the palms will be blessed, the palm will not be distributed until a later date.
Archbishop Perez has asked parishes to store the blessed palm for distribution at a later time.
We are praying for you and your families. Let us all pray for the end of the COVID-19 virus and that we can come together to worship soon.
Fr. O'Hara and Fr. Silveri
3/20/2020
Fr. Silveri and I have just celebrated the Liturgy for the Feast of St. Joseph. We prayed for our parish, for you, our parishioners, and those suffering from the Coronavirus. It is strange to celebrate a parish Liturgy without any of our people there. We miss your presence.
Even though public services have been put on hold, there are Masses and Prayers you can participate in on your TV. You can find programs on EWTN or on the Diocesan web page. The Catholic Universities and Colleges also offer Masses and Prayer reflections such as the University of Notre Dame. You can also connect with our Formed program for religious movies and educational programs. Go to formed.org and click SIGN UP-Click OPTION 3 (I Belong To A Parish Organization). Find our Parish in the SEARCH BAR-Enter your name and e-mail address. That's all. There is also a FORMED APP for smart phones and TVs.
You can also contact us here at the parish by email, st.joes@comcast.net or by phone at 610 948 7760 if you are in need of pastoral care or an encouraging voice. This cloistered time reminds me somewhat of how our world did shut down on Sundays to rest and pray on the Sabbath. Maybe there is some value we can glean for rest and family time. May God be our confidence, strength and hope during this unusual world event.
God Bless,
Fr. O'Hara and Fr. Silveri
---
Reflections…by S. Mary Ann
As we are not able to join in Mass together, let us pray for ourselves and the world…

---
Welcome to our Parish Website!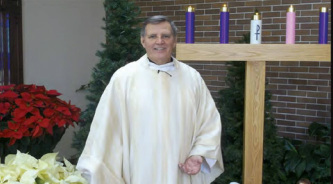 I am happy to welcome you to learn about our community here at St. Joseph's parish! For me, this is a perfect opportunity to deepen our faith as we journey with one another. Together, may we experience God's Presence in working and praying with each other in Liturgy.
By way of introduction, I want to tell you about myself. I am the oldest of twelve children. I was born in Milmont Park, Delaware County. I attended Our Lady of Peace Grade School and St. James High School in Chester. I graduated from the University of Notre Dame. It was my good fortune to play football for St. James and Notre Dame. My allegiance to both of these schools runs deep. I am a St. James Bull Dog and I may be somewhat "over the top" with my Notre Dame spirit! I strongly support Penn State (as long as they are not playing Notre Dame).
I attended St. Charles Seminary and was ordained for the Archdiocese of Philadelphia. I spent three years at St. Cecilia's parish in northeastern Philadelphia. I then taught theology at Bishop McDevitt H.S. in Wyncote, where I was appointed head football coach. I was assigned chaplain to Villa St. John Vianney in Downingtown and taught at Bishop Shanahan H.S. in West Chester. At Shanahan, I coached soccer, basketball, and golf.
In May of 2006, the Cardinal assigned me to minister to the people here in Spring City. I am truly blessed to serve all of you, and I look forward to meeting you and your family personally!
---
Eternal rest grant unto them, O Lord,
and let perpetual light shine upon them.
May the souls of the faithful departed,
through the mercy of God, rest in peace. Amen.
| | | |
| --- | --- | --- |
| Dolores Ehrhart | Ambrose E. Murphy | Linda M. Moore |
| Betty Tuscai | Kenneth R. Edwards | Judith Anne Salaba |
| Patricia Weiss | Antoinette Lightman | Bernice M. Caroselli |
| Annie DiPietropaolo DePaoli | | |
---
Mass Times
Masstimes.org is dedicated to helping Catholics get to Mass by helping them find churches and worship times worldwide.
While travelling, you can find Mass times by entering the location's zip code. Click here to get started.
You can also use the Automated Church Lookup: 1-858-207-6277
Enter the zip code of the desired location and receive a computer-generated response
that gives Church locations and Mass times.