Welcome to our Parish Website!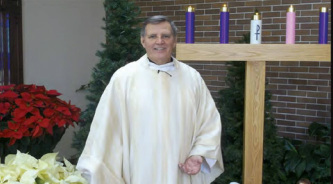 I am happy to welcome you to learn about our community here at St. Joseph's parish! For me, this is a perfect opportunity to deepen our faith as we journey with one another. Together, may we experience God's Presence in working and praying with each other in Liturgy.
By way of introduction, I want to tell you about myself. I am the oldest of twelve children. I was born in Milmont Park, Delaware County. I attended Our Lady of Peace Grade School and St. James High School in Chester. I graduated from the University of Notre Dame. It was my good fortune to play football for St. James and Notre Dame. My allegiance to both of these schools runs deep. I am a St. James Bull Dog and I may be somewhat "over the top" with my Notre Dame spirit! I strongly support Penn State (as long as they are not playing Notre Dame).
I attended St. Charles Seminary and was ordained for the Archdiocese of Philadelphia. I spent three years at St. Cecilia's parish in northeastern Philadelphia. I then taught theology at Bishop McDevitt H.S. in Wyncote, where I was appointed head football coach. I was assigned chaplain to Villa St. John Vianney in Downingtown and taught at Bishop Shanahan H.S. in West Chester. At Shanahan I coached soccer, basketball, and golf.
In May of 2006, the Cardinal assigned me to minister to the people here in Spring City. I am truly blessed to serve all of you, and I look forward to meeting you and your family personally!
St. Joseph 101
Time comes — time goes, and how fast this happens! My coming to St. Joseph parish occurred thirteen years ago, and yet how quickly those years have passed. Thirteen years seem miniscule to our parish history of 100 years. As my time here continues, so does yours. Together we are now on a new journey to begin another 100 years. How will our parish continue its role of providing opportunities for growing in our faith and celebrating that faith in Liturgy? To start, we will present themes that focus on some aspect of our Liturgy so that we can better understand and participate in our rituals. Gathering to celebrate Liturgy is the heart of community, the life of our parish. If our community is alive with vibrant Liturgy, St. Joseph parish will live on. Therefore, with a commitment to each other and an awareness of the presence of God with us, let us walk together into this new adventure for our personal life and create future memories for this new centennial.
God Bless,
Father O'Hara
---
Eternal rest grant unto them, O Lord,
and let perpetual light shine upon them.
May the souls of the faithful departed,
through the mercy of God, rest in peace. Amen.
| | | |
| --- | --- | --- |
| Juan C. Medina | Margaret Corropolese | Mary Frances McKenna Gambeski |
| Sue MacGuinness DelVecchio | Frederic S. Griste | Thomas Chuck |
| Dolores Ehrhart | Ambrose E. Murphy | Linda M. Moore |
| Betty Tuscai | Kenneth R. Edwards | Judith Anne Salaba |
| Patricia Weiss | | |
---
Mass Times
Masstimes.org is dedicated to helping Catholics get to Mass by helping them find churches and worship times worldwide.
While travelling, you can find Mass times by entering the location's zip code. Click here to get started.
You can also use the Automated Church Lookup: 1-858-207-6277
Enter the zip code of the desired location and receive a computer-generated response
that gives Church locations and Mass times.
---
Hope For Life Book Drive
Hope For Life would like to help mothers bond with their children through reading.
We are collecting children's books to be given out to parents & children in need.
Please drop off new & gently used books in the Narthex by September 29.
Thank you for Supporting Life!
---
16th Annual Saint Joseph Women's Group Basket Raffle!
Sunday, October 6, 2019
Friendship Fire Co. 269 Green St, Royersford
We hope to contribute once again to fine organizations like the Veteran's Center, Project Outreach, Birth Right, St. Mary's Shelter, Holy Family School, Mom's House, St. Vincent de Paul and even more this year but we can only do it with you!
Our goal to do this is to have each family donate a basket, or go in on a basket together.
For information and details, please contact Emma at 610-948-2064 or Carmella at 610-948-7731.
If you would like to contribute money that goes toward a basket, you may mail a check payable to "St. Joseph Church" directly to Emma Mungin at 664 S 5th Ave, Royersford, PA 19468 or drop it at the church office labeled to Emma's attention for Raffle.
ALL Donations must be submitted by Friday, September 20th! Thank you for supporting this worthy cause!
********************************************
ST. JOSEPH WOMEN'S GROUP 16th ANNUAL BASKET RAFFLE
PLACE: FRIENDSHIP FIRE CO.
269 GREEN STREET, ROYERSFORD, PA
DATE & TIME: SUNDAY, OCTOBER 6, 2019
DOORS OPEN 12 NOON
STARTS – 2:00 PM – No Tickets sold after 2:00 PM
25 TICKET ADMISSION SHEET $20.00
EXTRA 25 TICKET SHEETS – $5.00 ea.
50/50, GRAND PRIZE & SWEEPSTAKE TICKETS AVAILABLE
REFRESHMENTS WILL BE PROVIDED
(NO ALCOHOLIC BEVERAGES)
BRING YOUR OWN SNACKS
MUST BE AGE 18 & PRESENT TO WIN