Welcome to our Parish Website!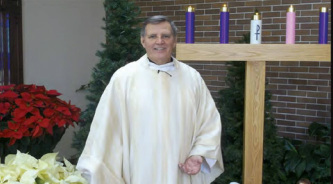 I am happy to welcome you to learn about our community here at St. Joseph's parish! For me, this is a perfect opportunity to deepen our faith as we journey with one another. Together, may we experience God's Presence in working and praying with each other in Liturgy.
By way of introduction, I want to tell you about myself. I am the oldest of twelve children. I was born in Milmont Park, Delaware County. I attended Our Lady of Peace Grade School and St. James High School in Chester. I graduated from the University of Notre Dame. It was my good fortune to play football for St. James and Notre Dame. My allegiance to both of these schools runs deep. I am a St. James Bull Dog and I may be somewhat "over the top" with my Notre Dame spirit! I strongly support Penn State (as long as they are not playing Notre Dame).
I attended St. Charles Seminary and was ordained for the Archdiocese of Philadelphia. I spent three years at St. Cecilia's parish in northeastern Philadelphia. I then taught theology at Bishop McDevitt H.S. in Wyncote, where I was appointed head football coach. I was assigned chaplain to Villa St. John Vianney in Downingtown and taught at Bishop Shanahan H.S. in West Chester. At Shanahan I coached soccer, basketball, and golf.
In May of 2006, the Cardinal assigned me to minister to the people here in Spring City. I am truly blessed to serve all of you, and I look forward to meeting you and your family personally!
St. Joseph 101
10/13/19 Week #3 on our Journey: Inside the Church
A few weeks ago we started our St. Joseph 101 Journey. We began at our Church Welcome Mat. We took a few steps into the Narthex, greeted by our Baptismal Font. Now, we are invited to enter the main body of the Church.
THE NAVE—the Church as SHIP
The main body of the Church, where the congregation is seated, is called the Nave. Nave is derived from the Latin: navis, meaning ship. Here we are gathered in "The Barque of Peter" (Barque—a sailing ship); traveling within the New Noah's Ark. We journey together in Christ's own vessel, the Church, which He made, through the grace and power of the Holy Spirit, to withstand the Storms and Floods of time.
Liturgical DIRECTIONS
The EAST—The Church Altar is always considered to be at the Liturgical EAST, even if the Compass says differently! The EAST, the place of the Sun's Rising, is where we come seeking the Lord, the Risen, Everlasting Light. Coming into His Presence we pray that our whole life, our family's life, our world might be "Oriented" to Him.
The NORTH – The Pulpit, the Ambo, is always on the Liturgical NORTH. Historically, in Europe, it was from the NORTH, that wild, fierce tribes invaded. From the NORTH swept down chaos and destruction. So, even now, it is to this Direction that the WORD is proclaimed: that Death, Destruction and Darkness might be overcome by the Gospel of Life.

10/6/19 Week #2 on our Journey: At The Font
The FONT: Our FONT has 8 sides, which is the Traditional Design of Baptismal fonts. Why 8? Eight is a symbol of Eternal Life.
7 is the sum of the days of the week, so to enter into the 8th day is to step into Eternal Life. Whenever we dip our hand into the water of the FONT may we remember that, no matter our age, God wishes to renew our life, to bless our days, to lead us even now to eternal Youth.
Baptismal Gown and Baptismal Candle: Not many of us can say we are still as innocent as the newly baptized babe, yet always, at any Age, the Good Father wishes to clothe us again in His Robe of love and the fire light of grace.
Think about the confessionals at the back of church. Imagine our Good Father calling us there to heal all that is not of Him—
all that takes life out of us, that wilts us, and binds us. He calls us to this sacrament to restore the Youth of our Baptismal life.
The Baptismal Oils: We are an anointed people. We, in Christ, are privileged to call God our Father and so we are His Youthful children.
May we become closer and closer to Our Father throughout our lives.
May we bring others to the Youthful Joy of Our Father's House.
9/29/19 Week #1 on our Journey: At our Parish Welcome Mat
Let us think about God's invitation to receive His Fire.
What, within us and our family, needs God's Light, needs God's warmth, needs to be purified?
In our Daily Life— Let's think about the places we actually Enter into: our own homes, places of work, stores, social gatherings. For children: the school bus, classrooms, friends' homes, sports fields. Remind yourself and your family to take a moment before entering anywhere. Pray to bring to these places and to these particular people God's Light, Warmth, Love, Care.
In Intercession—May we pray for all those whose footsteps are absent from our Welcome Mat. May the joy, light, warmth and witness of our Catholic lives, lead our absent brothers and sisters back to the Church's Life-giving Fire.
---
Eternal rest grant unto them, O Lord,
and let perpetual light shine upon them.
May the souls of the faithful departed,
through the mercy of God, rest in peace. Amen.
| | | |
| --- | --- | --- |
| Juan C. Medina | Margaret Corropolese | Mary Frances McKenna Gambeski |
| Sue MacGuinness DelVecchio | Frederic S. Griste | Thomas Chuck |
| Dolores Ehrhart | Ambrose E. Murphy | Linda M. Moore |
| Betty Tuscai | Kenneth R. Edwards | Judith Anne Salaba |
| Patricia Weiss | Antoinette Lightman | |
---
Mass Times
Masstimes.org is dedicated to helping Catholics get to Mass by helping them find churches and worship times worldwide.
While travelling, you can find Mass times by entering the location's zip code. Click here to get started.
You can also use the Automated Church Lookup: 1-858-207-6277
Enter the zip code of the desired location and receive a computer-generated response
that gives Church locations and Mass times.