Welcome to our Parish Website!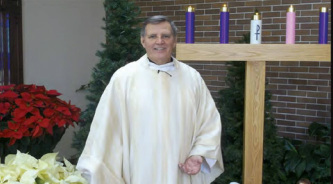 I am happy to welcome you to learn about our community here at St. Joseph's parish! For me, this is a perfect opportunity to deepen our faith as we journey with one another. Together, may we experience God's Presence in working and praying with each other in Liturgy.
By way of introduction, I want to tell you about myself. I am the oldest of twelve children. I was born in Milmont Park, Delaware County. I attended Our Lady of Peace Grade School and St. James High School in Chester. I graduated from the University of Notre Dame. It was my good fortune to play football for St. James and Notre Dame. My allegiance to both of these schools runs deep. I am a St. James Bull Dog and I may be somewhat "over the top" with my Notre Dame spirit! I strongly support Penn State (as long as they are not playing Notre Dame).
I attended St. Charles Seminary and was ordained for the Archdiocese of Philadelphia. I spent three years at St. Cecilia's parish in northeastern Philadelphia. I then taught theology at Bishop McDevitt H.S. in Wyncote, where I was appointed head football coach. I was assigned chaplain to Villa St. John Vianney in Downingtown and taught at Bishop Shanahan H.S. in West Chester. At Shanahan I coached soccer, basketball, and golf.
In May of 2006, the Cardinal assigned me to minister to the people here in Spring City. I am truly blessed to serve all of you, and I look forward to meeting you and your family personally!
---
St. Joseph Centennial Programs & Projects
Centennial Commemorative Booklet –Featuring photos and events shared by St. Joseph parishioners.
March 10, 2019 – Guest Speaker, Michael Aquilina
1:00 — 4:00pm       St. Joseph: His Angels & His Works
As part of our 100th Anniversary Celebration,
we are pleased to present Guest Speaker, Mike Aquilina, the award-winning author
of more than 40 books on Catholic history, doctrine & devotion.

Click Here to listen to a sampling of his dynamic talk on…St. Chrysostom and Marriage.
On March 10, 2019 at 1:00pm, he will present Saint Joseph: His Angels and His Works.

Scripture tells us just a little bit about St. Joseph, but that little bit speaks volumes about the kind of life God blesses. In two talks, Mike Aquilina will examine St. Joseph's approach to two constants in his every day life and our every day lives: work and angels. Like Jesus himself, we have much to learn from the carpenter of Nazareth.

This event will be held in our church. Refreshments will be served.

March 24, 2019 —  St. James Choir — Concert of Hymns (time to be announced)
April 1 – 5, 2019 – St. Joseph Mission
April 6, 2019 – Archbishop Charles Chaput to celebrate Mass @ 4:30 pm
 April 28, 2019 – Gala Dinner at Rivercrest – 4:00 – 8:00 pm
Tickets will be available after Masses starting March 3rd.  Cost $50 per person.
Tickets limited to 300. Event is for participants 18 years of age and over.
Traveling St. Joseph Shrine – Families of the parish have been invited to host the shrine in their homes for a week. The enthusiasm for this project has been overwhelming and therefore will continue after the close of our centennial year celebration.
Stained Glass Windows – The 12 windows will highlight "Joseph" – Saint Joseph and also the Joseph of the Old Testament. These windows will depict the connection of the two Josephs and also highlight Saint Joseph as Patron of the Universal Church and Mary as the Mother of the Church.
Commemorative Centennial Rosary

As part of our Centennial Celebration,
we commissioned a special St. Joseph Commemorative Centennial Rosary
hand crafted especially for us in Italy by Ghirelli.
The rosary beads are of a natural stone with gold placements.
At the rosary division piece, is the floor seal that appears
at the entrance of the narthex with a Centennial commemorative.
---
Eternal rest grant unto them, O Lord, and let perpetual light shine upon them.
May the souls of the faithful departed through the mercy of God rest in peace. Amen
OUR FAITHFULLY DEPARTED
Ann M. Lorman
​Mary E. Dyrcz
​Thomas Vafeades

 Anna Bozzelli
John Etriss, Jr.

Esther Carl

Patricia H. Berkey
Roman Dychdala

Hugh Michael Gallagher​
---
ARE YOU TRAVELING? GET MASS TIMES
One number you'll want to remember while traveling is ​(858) 207-6277 or on the web at 
MASS TIMES
​
.
By using the zip code or area code, you can get the name, address, phone number and Mass times of the nearest Catholic Church.