Welcome to our Parish Website!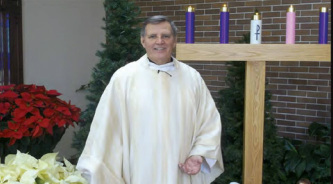 I am happy to welcome you to learn about our community here at St. Joseph's parish! For me, this is a perfect opportunity to deepen our faith as we journey with one another. Together, may we experience God's Presence in working and praying with each other in Liturgy.
By way of introduction, I want to tell you about myself. I am the oldest of twelve children. I was born in Milmont Park, Delaware County. I attended Our Lady of Peace Grade School and St. James High School in Chester. I graduated from the University of Notre Dame. It was my good fortune to play football for St. James and Notre Dame. My allegiance to both of these schools runs deep. I am a St. James Bull Dog and I may be somewhat "over the top" with my Notre Dame spirit! I strongly support Penn State (as long as they are not playing Notre Dame).
I attended St. Charles Seminary and was ordained for the Archdiocese of Philadelphia. I spent three years at St. Cecilia's parish in northeastern Philadelphia. I then taught theology at Bishop McDevitt H.S. in Wyncote, where I was appointed head football coach. I was assigned chaplain to Villa St. John Vianney in Downingtown and taught at Bishop Shanahan H.S. in West Chester. At Shanahan I coached soccer, basketball, and golf.
In May of 2006, the Cardinal assigned me to minister to the people here in Spring City. I am truly blessed to serve all of you, and I look forward to meeting you and your family personally!
St. Joseph 101
11/10/19 Week 7 of our Journey: THE CHURCH CALENDAR
Many of us who use paper calendars are beginning to look for the perfect 2020 edition— big blocks for putting in birthdays, appointments, etc. The Church has its own calendar usually shown in a round shape like a clock. The calendar displayed in the bulletin is used by our CGS children. It is published by The United States Association of The Catechesis of the Good Shepherd.
The First Sunday of Advent marks the beginning of the Church year, the Christmas season follows and then, of course, the rest of the year. You will notice in the Church (Liturgical) calendar from CGS, time flows counter-clockwise. This is deliberate, so that, in a visible way, we can be reminded of our call to enter into the Mystery and Grandeur of God's Time.
You and your family are invited to color the Church calendar found in today's bulletin (all at once or as each of the Sundays come along). The calendar at the top of the bulletin page is your guide.
Our CGS children sing this Color Song:
Purple and Green, Red and White are the colors of the year.
Purple and Green, Red and White remind us of the Light!
Purple's for Preparation,
White is for celebration,
Green is for the Growing Time,
Red is for Pentecost.
(Google: The Color Song—CGS on YouTube. You can sing along.)
As you color…may the meaning of the colors
and the Spirit of the Seasons fill your mind & heart.
---
Eternal rest grant unto them, O Lord,
and let perpetual light shine upon them.
May the souls of the faithful departed,
through the mercy of God, rest in peace. Amen.
| | | |
| --- | --- | --- |
| Juan C. Medina | Margaret Corropolese | Mary Frances McKenna Gambeski |
| Sue MacGuinness DelVecchio | Frederic S. Griste | Thomas Chuck |
| Dolores Ehrhart | Ambrose E. Murphy | Linda M. Moore |
| Betty Tuscai | Kenneth R. Edwards | Judith Anne Salaba |
| Patricia Weiss | Antoinette Lightman | |
---
Mass Times
Masstimes.org is dedicated to helping Catholics get to Mass by helping them find churches and worship times worldwide.
While travelling, you can find Mass times by entering the location's zip code. Click here to get started.
You can also use the Automated Church Lookup: 1-858-207-6277
Enter the zip code of the desired location and receive a computer-generated response
that gives Church locations and Mass times.