Sacramental preparation and Sacraments are available for all St. Joseph Parish children.
Please note:  PREP, Catholic School and (CGS) sacramental preparation programs are outlined below in separate sections.
Parents of Catholic School Children must submit a Sacramental Registration Form to enroll your child.
Picture Form (optional form for ALL 1st Eucharist and Reconciliation Candidates)
First Eucharist & Reconciliation
​If registering a child for the Sacraments of Reconciliation and Eucharist, generally grade two, a child of Saint Joseph Parish must have completed level one and have the appropriate catechetical background and understanding of the sacrament.
PREP and Catholic School Preparation:
Those enrolled in this program will require child participation in two  4 hour Saturday morning retreats
and Sunday afternoon practices for both sacraments in addition to the Sacrament date itself.
Reconciliation – February 10, 2022
First Eucharist – April 30, 2022
*To access Formed – Go to formed.org and click SIGN UP-Click OPTION 3 (I Belong To A Parish Organization). Find our Parish in the SEARCH BAR-Enter your name and e-mail address.
Catechesis of the Good Shepherd Preparation 2021–2022:
Those enrolled in CGS participate in a five-part parent and child meditation series and a multi-day retreat prior to receiving First Reconciliation and Eucharist. Tentative plans are as follows:
Intention Mass:
Tuesday, Nov. 30,  5:30 pm
—
Meditation Series:
The following days
True Vine 1
Sunday, Feb. 13, 6:30–7:30 pm
True Vine 2
Sunday, Feb. 20, 6:30–7:30 pm
Found Coin/Found Sheep
Sunday, March 13, 6:30–7:30 pm
Loving Father
Sunday, March 20, 6:30–7:30 pm
Centurion's Servant
Sunday, April 3, 6:30–7:30 pm
Snow Date:
Sunday, March 27, 6:30–7:30 pm
Retreat:
Day 1: Thursday, April 21, 4:30–6:30 pm
 
Day 2: Friday, April 22, 4:00–7:00 pm
First Reconciliation:
Friday, Apr 22, 7:00 pm
First Communion:
Saturday, April 23–Morning Retreat: 8:30–10:00 am
 
Mass: 10:00 am
 
First Communion Parent Info Meeting

---
Confirmation:
​To be eligible for the Sacrament of Confirmation, children of Saint Joseph parish should be at least in grade seven and have the appropriate catechetical background and understanding of their Catholic faith and of the sacrament.  This program will require 2 student/parent meetings, a minimum of 20 hours of volunteer/service time, a Saturday retreat (may be virtual), an evening reconciliation, a Sunday afternoon practice for the sacrament in addition to the sacrament itself.  Catholic School children are also required to complete an at home or in PREP Class Confirmation study program. Additional forms will be available at the first parent meeting. Weekly classes will be on Sundays 6:30 – 7:30 PM.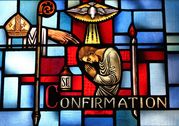 Confirmation Calendar (coming soon)
Required Confirmation Forms
INDIVIDUAL FORMS
IMPORTANT DATES:
Updated 2021 Confirmation Calendar
Parent & Confirmand Meeting                                Confirmation Retreat
January 9, 2022 via ZOOM                                           TBD
March 13, 2022 at 6:00 PM in Church
Study Sessions in the Narthex                                  Confirmation Interviews
April 24, May 1, 15, 22, 29 – 2:30 PM                          TBD
Reconciliation Service                                                 Confirmation Practice
June 3, 2022 7:00 PM                                                    June 5, 2022 2:00 PM
Confirmation
June 6, 2022 6:00 PM  –  Most Reverend Nelson J. Pérez